Enhances calcium and phosphorus absorption for strong bones*

Helps regulate immunity, mood, and the neuromuscular system*
A perfect companion to our many omega oils, Nordic Vitamin D3 delivers 1000 I.U. natural vitamin D3 in a carrier oil of extra virgin olive oil, which is rich in omega-9. Vitamin D3 (cholecalciferol) is the form of vitamin D best absorbed and utilized by the body.* This product does not contain fish oil.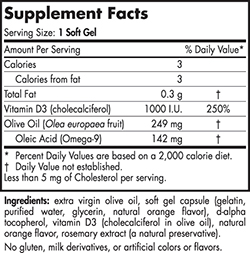 * These statements have not been evaluated by the Food and Drug Administration. This product is not intended to diagnose, treat, cure, or prevent any disease.