Ideal companion to any Nordic Naturals omega-3 product
Chewable, pectin-based multivitamin for ages 2+
Provides essential nutrients—including zinc and vitamins A, B, C, D3, & E
No artificial coloring, flavoring, or preservatives
Nordic Berries contain essential vitamins, minerals, and antioxidants growing kids need. These easy-to-chew multivitamins capture the delicious sweet-and-sour citrus taste of Norwegian cloudberries. No wonder they're the #1 Children's Multivitamin in the U.S.! Nordic Berries are suitable for children 2 years and older, and make an ideal companion to any Nordic Naturals omega-3 product.
Suggested Use: For two years and older, four Nordic Berries daily with food, or as directed by your health care professional or pharmacist. Please ensure child chews each gummy thoroughly.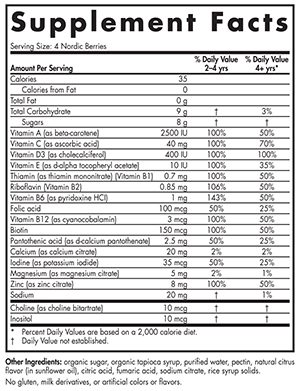 * These statements have not been evaluated by the Food and Drug Administration. This product is not intended to diagnose, treat, cure, or prevent any disease.